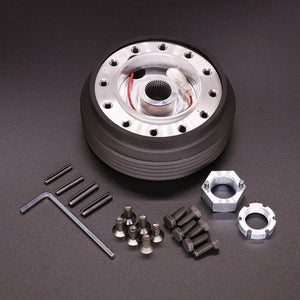 Developed by Shoji-san himself for the perfect steering wheel distance for the Z / Hako/ Kenmeri/ 510 chassis. 
• 32.2mm
• Fitment applications for S30Z, Hakosuka, Kenmeri, and 510.
• Made in Japan by Worksbell
• Super short boss is meant to be combined with a flip up adapter or quick release. 
Disclaimer: Star Road products are sold for off-road use only. All performance modifications and installations are performed at the customer's own risk. Lonely Driver Company holds no responsibility either implied or otherwise for mechanical, electrical, or other failure when using an aftermarket performance product, and expressly denies such responsibility. Lonely Driver Company makes no representations and assumes no responsibility for the legality of such items. Products sold for off-road use may be illegal in some states, provinces, and countries and are intended for vehicles which may never be used on a public road.