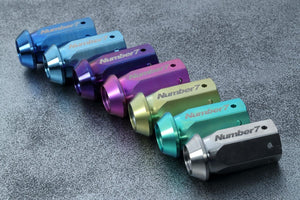 Number7 sought out to curate performance lug nuts from their experience gained from racing on famous race tracks such as Tsukuba, Fuji, and Suzuka. In doing so, they made a simple but very beautiful lug nut while at the same time being exceptionally strong! 
• Grade 5 Titanium
• Available in 16 or 20 piece set 
• Colors available: Blue, Light Blue, Purple, Fuchsia, Yellow, Seafoam, Silver 
• Custom order 
• Made in Japan 
• Please contact for pricing and shipping 
Disclaimer: Number7 products are sold for off-road use only. All performance modifications and installations are performed at the customer's own risk. Lonely Driver Company holds no responsibility either implied or otherwise for mechanical, electrical, or other failure when using an aftermarket performance product, and expressly denies such responsibility. Lonely Driver Company makes no representations and assumes no responsibility for the legality of such items. Products sold for off-road use may be illegal in some states, provinces, and countries and are intended for vehicles which may never be used on a public road.